Volunteer VIP's – Linda Bass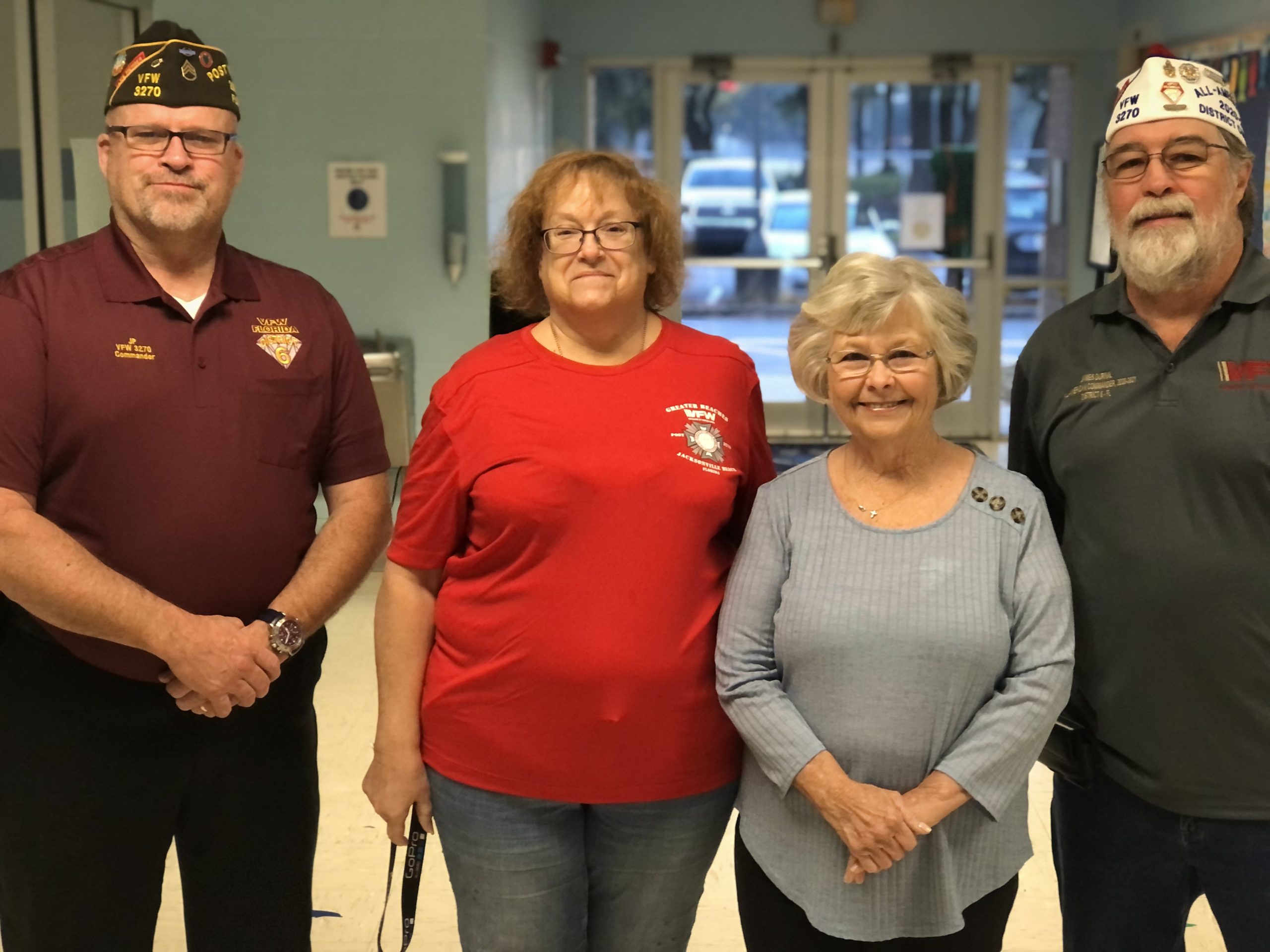 As a volunteer driven child hunger prevention network, First Coast Blessings in a Backpack would like to give thanks for the life we live, for the love we have and for the nourishment that is provided by our Blessings Volunteers. We are acutely aware that our volunteers are the beating heart of our Mission, they come to us from all over the region, helping provide 5,550 food insecure children with weekend nutrition so that each child may arrive to school on Monday nourished and ready to learn. It is hard to put into words how important their work is to our Mission and how much we appreciate each and every one of them, every single day.
This month, after 13 years of service, Linda Bass is retiring. Linda is our First Coast Blessings Program Volunteer at Mayport Elementary, she has been with us from the very beginning, and this is a bittersweet goodbye. It would not be an exaggeration to describe Linda Bass and her Mayport Blessings Team as child hunger heroes. Linda retired from Mayport Elementary after 31 years and seeing the need there, built a Blessings team, found her funders and began feeding the kids she knew to be hungry.
Since 2008, she and her Mayport Team have purchased, packed and delivered nearly 200,000 Blessings bags, each including a sweet, handwritten note of encouragement and love for every child. The connection between heart, hand and mind is a strong one and this Team made sure their children knew this food came from people that loved them. Linda along with Marty and Chuck Guthrie, Cathy Pugh, Richard Birmingham, John Schultz, and Cathey New successfully grew this program from feeding 200 children to more than 350 each week.
Over the past decade, Linda not only launched and led the Mayport Blessings Program, but she also helped train brand new program Blessings volunteers. She was recognized as a compassionate leader with unflagging spirit, always at the ready to assist and chock full of meaningful advice. Linda helped support and grow new programs whenever she was called- and she was called upon quite often. She never let a single one of us down. Here are a few statements from those who worked with her over the years.
"All I can say is I love her. There is simply no bigger heart than hers. She lived and breathed Blessings and made it look so easy, she has so much love to give. I want to be just like her when I grow up!"

-Sharon Kehoe, PC for Palm Valley Team.

"Linda Bass has been such a blessing to me for many years. She was a huge help to me when I was trying to get my program started at Chet's Creek Elementary. I absolutely could not have done it without her. She continued to support me for many years taking charge and coordinating our Publix orders. You would be sure to see Linda's smiling face at every packing event. She has been such a blessing and will be missed!"

-Lauren Skipper, PC Chet's Creek Elementary