Bill Murray entertains as Caddyshack tourney raises millions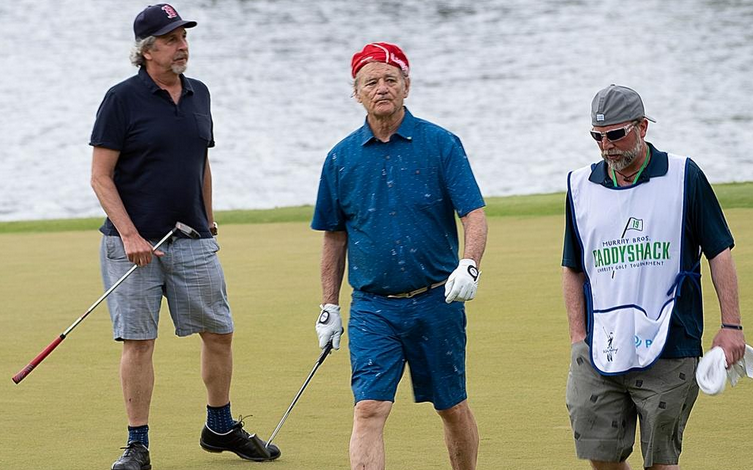 By Stuart Korfhage via staugustine.com.
What's the secret of success for the Murray Brothers Caddyshack Golf Tournament for charity, which teed off for the 19th time Friday at the World Golf Village?
Apparently it's the strict rules.
Actor Bill Murray, the most famous of the six Murray brothers who operate the Murray Brothers Caddyshack restaurant nearby, made an announcement to start play: "Anyone who gets injured or arrested is banned — for two years. That's final."
It's that level of seriousness that gets people coming back.
"Usually these things, we do them, they last a handful of years, and they have a sort of natural death that they die," Murray told The Record later. "This one hasn't done it. They (the participants) have a lot of fun."
They also raise a lot of money for local charities.
In almost two decades worth of these tournaments, the Murray brothers and their friends have helped raise about $3.5 million.
At first, the events supported St. Vincent's Mobile Health Units. But as the events went on and the money kept flowing, the number of causes benefited has increased. For instance, the tournament has raised more than $1 million over the years for Firehouse Subs Public Safety Foundation, which pays to equip first responders with automatic external defibrillators.

This year, the money will be spread among Big Brothers Big Sisters of Northeast Florida, St. Johns County Police Athletic League and First Coast Blessings in a Backpack.
It's amazing how much money can be generated just by people who want to play golf with — or at least near — Bill Murray.
Murray's impromptu interactions with strangers have often gone viral. Whether it was his decision to hop in front of a camera during a couple's wedding photos in South Carolina or treating a woman he met in front of the stadium in Chicago to a World Series ticket, Murray has a history of bringing unexpected joy to others.
There seems to be a vibe that makes people want to hang out with him.
Is that why people want to play his tournament? Sort of, he says.
"I think that they feel we're not going to turn them in," Murray said of his fellow golfers. "Most of them are witness protection people or are in some kind of hiding, so they feel confident we're not going to turn them in."
With such a following, it's a fair question to ask Murray why the new "Avengers: Endgame" caps the franchise at more than 20 movies while the Caddyshack franchise produced just two.
"I think they do more hiring," Murray said.