Furyk & Friends welcomes celebrities to Ponte Vedra for good cause
Story by Jon Blauvelt via pontevedrarecorder.com
A host of celebrities were in Ponte Vedra Beach on Sunday and Monday to attend the Jim & Tabitha Furyk Foundation's annual concert and golf tournament benefiting local charities.
The ninth annual fundraiser known as Furyk & Friends kicked off with a concert Sunday night featuring Lee Brice, Jordan Davis, Javier Colon, Patrick Davis, Colt Ford, Jack Ingram and Drew Copeland. Additional celebrities in attendance included Merril Hoge, Lynn Swann, Ozzie Smith, Johnny Damon and Doug Marrone, among others.
The concert was held at THE PLAYERS Welcome Experience, the new entryway experience for fans as they arrive through the Nicklaus Entry. Located behind the 17th hole at TPC Sawgrass, the space is home to the PGA TOUR Fan Shop, Stadium Village, 17th Hole Challenge, The Grove, Kids Zone, Bier Garden, Family Care Suite and Palm Valley Village.
"With THE PLAYERS moving back to our date, it seemed like a perfect opportunity to have a little partnership and show off all the work they've been doing to make this new entrance here at 17 so spectacular," said Tabitha Furyk, co-founder of the Jim & Tabitha Furyk Foundation.
In addition to food from several local restaurants, the fun on Sunday night also included a closest-to-the-pin contest on the 17th hole with a group of PGA TOUR players. Thanks to the support of the PGA TOUR, the players competed for the opportunity to win $5,000 to the charity of their choice, as well as $5,000 to the Furyk Foundation in their name. The winner of the competition was Nease High School graduate and two-time PGA TOUR winner Len Mattiace, who will be directing the money toward his own foundation, the Len Mattiace Foundation.
Mattiace's foundation raises awareness and money for the First Tee of North Florida and focuses on bullying through its "Stop the Bullying" campaign.
On Monday, the celebrities and other guests teed it up at Sawgrass Country Club for a chance to win a custom sports coat from Rosenblums and Coppley clothiers.
In addition to continuing to distribute money raised to children's charities in Jacksonville, the Furyk Foundation is partnering with Jax Humane Society to provide field trips, books and educational curriculum for Title 1 schools in Duval County and camps for other programs supported by the foundation. The Furyk & Friends event and sponsors help the foundation continue to contribute to the missions of First Coast Blessings in a Backpack, Community Hospice and Wolfson Children's Hospital, among others.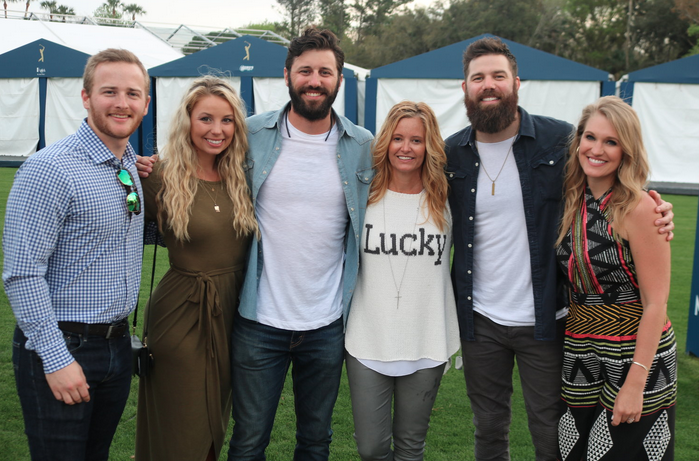 Chad Sutton, Mariah Sutton, Zach Sutton, Tabitha Furyk, Jordan Davis and Kristen Davis at the concert at TPC Sawgrass. Photos by Jon Blauvelt.